Exhibition period
August 31, 2007 (Fri) - September 26, 2007 (Wed)
Venue
Gallery: PHOTO IS on FUJIFILM SQUARE 1F
Admission
Free
PHOTO IS
Smile Please! - A Photographic Exhibition by Norika Fujiwara
Please note that this exhibition closed on Wednesday, September 26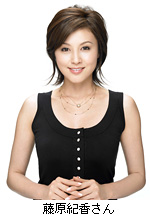 The "PHOTO IS" gallery at FUJIFILM SQUARE is delighted to present "Smile Please! -- A photographic exhibition by Norika Fujiwara," which runs from Friday, August 31 to Wednesday, September 26. From 1998, actress Norika Fujiwara worked for four years as Fujifilm's first imaging character to promote the FinePix series of digital cameras. As the imaging character on such cameras as the FinePix 700 (1998) and the FinePix F401 (2002), Fujiwara was an instrumental figure in the promoting the popularity of FinePix cameras.

This exhibition is a charity exhibition that features a collection of photographs taken by Norika Fujiwara as part of her current international aid efforts. After working as Fujifilm's imaging character, Norika Fujiwara gradually developed an interest in photography, and since 2002 one of her major projects has been traveling around the world taking photographs of young children to raise awareness of the conditions of extreme poverty and starvation in which many children are forced to live.

Along with photographs taken in Afghanistan, Cambodia and several taken in India in March this year on the FinePix camera that always accompanies Norika Fujiwara on her travels, the exhibition contains personal memories and the wonderful smiling faces of children from around the world. The exhibition seeks to assist Norika Fujiwara's charitable works in several ways, including the setting up of a message board where visitors can post their own personal messages to the children of the world and a donation box where visitors can make their own contributions.

We hereby extend a cordial welcome to all visitors to come to FUJIFILM SQUARE to experience the bright smiling faces of children from around the world, as captured by Norika Fujiwara, and of course the importance of her international charity work.