Dates
Friday, February 29 - Wednesday, March 26, 2008
Venue
PHOTO IS Gallery, first floor of the FUJIFILM SQUARE showroom
Admission
Free
Number of exhibits
Approx. 200
PHOTO IS
" Unusual Festivals" a photographic exhibition from Makoto Shina
Please note that this exhibition closed on Wednesday, March 26
We are pleased to announce that " Unusual Festivals" a photographic exhibition from Makoto Shina, is being held at the PHOTO IS Gallery on the first floor of FUJIFILM SQUARE from Friday, February 29 to Wednesday, March 26.

Writer and photographer Makoto Shina has contributed a series of acclaimed articles and photographs entitled " Unusual Festivals in Japan" to the popular travel and food magazine Jiyujin since the May 2004 edition. Shina has traveled the length and breadth of Japan, and has taken photographs at many of the more unusual, yet integral to the local identity, of these festivals.

Shina began photographing his series in 2004 with Fujifilm's FinePix S2 Pro digital camera, and has since expressed great satisfaction with the color reproduction and high image quality of Fujifilm's digital cameras. He currently uses the single lens reflex FinePix S5 Pro digital camera, which he sees as amn and sees as an indispensable tool to express the great variety of color and the wide range of atmospheres that he experiences during his travels to Japan's more unusual festivals.

We have carefully selected photographs from 24 unusual festivals held across Japan for this photo exhibition. Even the gallery will have a slightly different feel ? with live music to add to the festivities. Indeed, the whole venue will have a festival-like atmosphere to make visitors feel that they are truly experiencing an unusual festival.

In addition, the PHOTO CAFE, adjacent to the PHOTO IS gallery, is complementing the main photo exhibition with a display of carefully selected photographs taken of unusual festivals over the past 35 years.

A variety of festival masks created by friends of Makoto Shina (Including photographers, actors and singers) will be displayed at the main entrance of the gallery to further add to the festival atmosphere.

There will also be a book signing session during which Makoto Shina will sign copies of his new book Unusual Festivals of Japan.

Visitors are cordially invited to come along to FUJIFILM SQUARE and join in the festival atmosphere.
※Please note that the deadline for applications to attend the talk show is 17:00 on Monday, February 18.
profile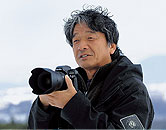 Makoto Shina

Born in Tokyo in 1944, Shina began writing novels, essays and reports in 1979. His works include Pedigree Dogs (Kodansha), A Mountain Tale (Shinkosha), Ad Bird (Shueisha), The Chinese Birdman (Shinkosha) and The Golden Age (Bungeishunju). Among his more recent works are Talking About Camels and Other Things (Hon no Zasshi-sha). He has contributed a series of articles entitled "Red Mantle" to the popular weekly magazine Shukanbunju for the past decade, and has published several travel books detailing his experiences in such diverse parts of the world as Mongolia, Patagonia and Siberia. His hobbies include fireside camps and traveling far and wide.