Teiko Shiotani — Pioneer of Artistic Photography in Japan
Photo History Museum FUJIFILM SQUARE
Teiko Shiotani — Pioneer of Artistic Photography in Japan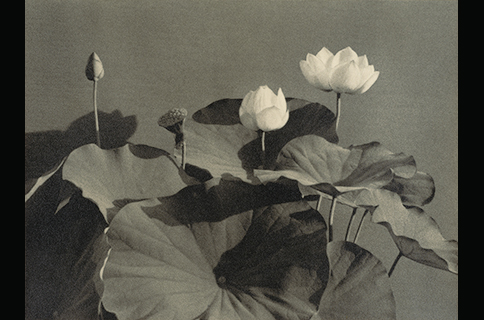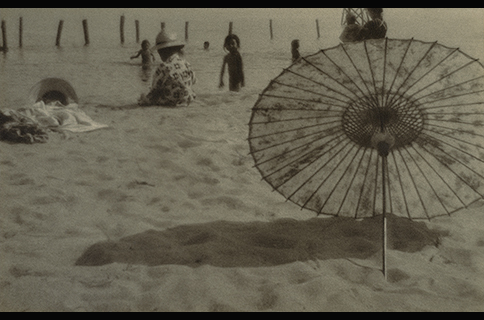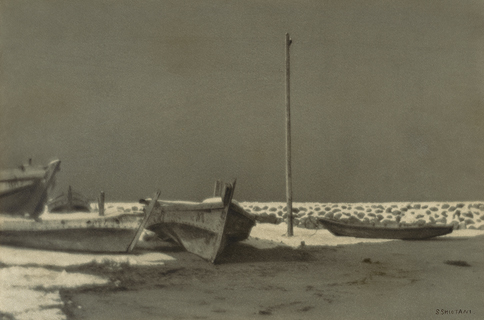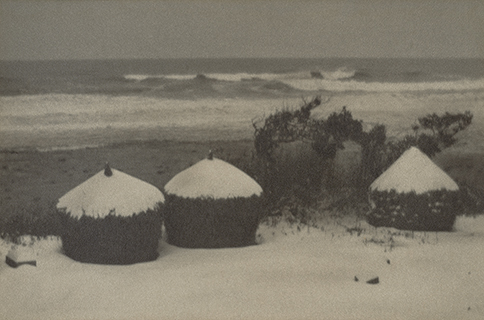 Please note that this exhibition closed on Thursday, July 31, 2015
The Photo History Museum at FUJIFILM SQUARE is pleased to present an exhibition of photos by Teiko Shiotani, a pioneering Japanese photographer who remains relatively unknown in his homeland.
Shiotani was born into a wealthy family involved in the shipping business in Tottori Prefecture, and found fame as a leading proponent of artistic photography in Japan's Taisho (1912-26) and early Showa (1926-89) periods. He was greatly influenced by the pictorial movement of photography popular in Europe and the US in the latter 19th and early 20th centuries, and sought to imbue his photographs with the type of artistic expression more often associated with impressionist painting styles. He used the popular Vest Pocket Kodak folding camera to capture landscape images of the Sanin region of Japan – an area familiar to Shiotani throughout his life – and adopted a unique soft focus to realize beautiful depictions that had a profound impact on young photographers of the age. Renowned photographer Shoji Ueda, also from Tottori Prefecture, once said of Shiotani, "To me he is an almost God-like figure."
During the period Shiotani was active, cameras were still very expensive items, and photography was very much the preserve of the wealthy. Apart from professionals who ran their own photographic studios, all other people interested in photography were no more than enthusiastic amateurs. The only avenue open to most budding photographers was to enter competitions run by photo magazines, and it was extremely rare for anyone to experiment with new forms of photographic expression. Shiotani's works were rediscovered during the latter half of the 1970s, and exhibitions of his photos were displayed in Cologne in 1982 and at the biennial Photokina imaging trade show.
This exhibition features 25 vintage prints* courtesy of the Teiko Shiotani Memorial Photo Gallery which opened last year. During the exhibition, Shiotani's grandson, Susumu Shiotani – who is also a researcher on his ancestor's life and works – will conduct a gallery discussion session.
* An image that was approved and printed by Shiotani himself shortly after capturing the image, and is accorded high rarity value.
Profile of Teiko Shiotani (1899-1988)
Shiotani was born in Touhakugun-akasaki town (modern-day Kotoura town) Tottori Prefecture in 1899. He lived his entire life and photographed extensively in the Sanin region of Japan, gaining fame both in Japan and internationally as a pioneer of artistic photography. He received his first camera while still at elementary school, and founded a photographic society in his hometown in 1919. Shiotani won first prize for his entry "Fishing Village" to the very first photo competition run by the Asahi Camera photo magazine to commemorate its founding in 1926.
Following this, he won several prizes in subsequent photo contests, and as a member of the Japan Photographic Association and special member of a number of international photo salons, his works were displayed on several occasions. The publication of the Teiko Shiotani Photo Collection in 1975 brought his works to the attention of a new generation of photographers and photo lovers.
In 1979, an exhibition entitled "Modern Japanese Photography and its Origins" was displayed in 12 European countries; in 1982 Shiotani's "Photografia 1922-82" was exhibited in Cologne and was also recognized with an award at Photokina – the world's leading trade show for the global imaging industry. In 1983, he received a lifetime achievement award from the Photographic Society of Japan, and in 1988 an exhibition of Shiotani's works was featured at the Huston Photo Festival, and was subsequently shown in seven different venues across the US. Shiotani died the same year.
His works are housed in art-related institutions around world including the National Library of France, the Museum of Art and Industry Hamburg, the Santa Fe Museum of Art, the Tokyo Metropolitan Museum of Photography, the Yokohama Art Museum, the Tottori Prefectural Museum, the Shimane Art Museum and the Yonago City Museum of Art.
| | |
| --- | --- |
| Name of exhibition | Teiko Shiotani — Pioneer of Artistic Photography in Japan |
| Dates and Time | May 1 – July 31, 2015 (Gallery discussions at 2pm and 4pm on May 30) |
| Dates and times | 10:00 - 19:00 open everyday throughout duration of the exhibition (last entry: 18:50) |
| Venue | Photo History Museum, FUJIFILM SQUARE |
| Number of exhibits | 25 photographic works (provisional) |
| Admission | Entry free |
| Organized by | FUJIFILM Corporation |
| Supported by | Teiko Shiotani Memorial Photo Gallery |
| Cooperation | Contact |