Fujifilm Photo Collection "My One Shot" — single images of leading pioneers of Japanese photographic history
Fujifilm Photo Collection
"My One Shot" — single images of leading pioneers of Japanese photographic history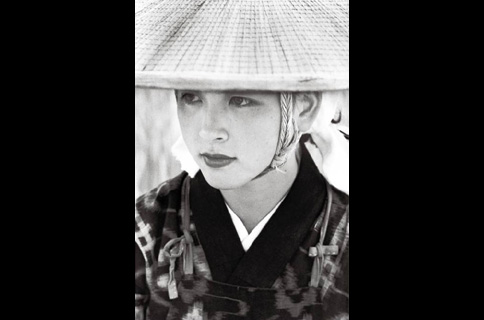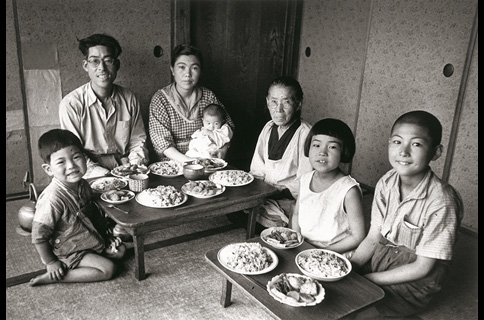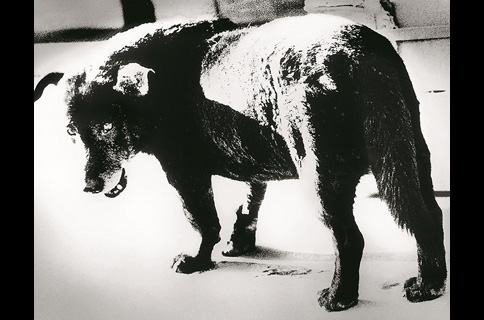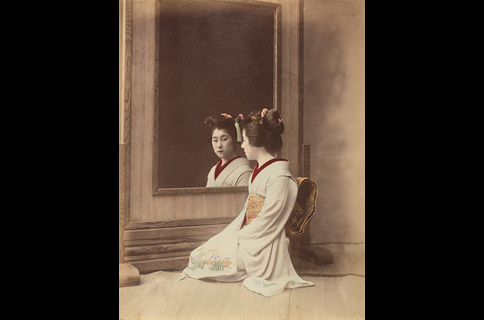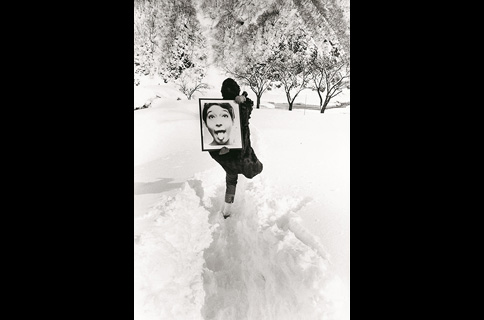 Please note that this exhibition closed on Wednesday, April 12, 2017
FUJIFILM SQUARE is pleased to announce an exhibition of the photo collection "My One Shot" — single images of leading pioneers of Japanese photographic history, which runs from March 24 — April 12, 2017.
This photo exhibition commemorates the 80th anniversary of the founding of Fujifilm Corporation in 2014 (originally founded as Fuji Photo Film Co., Ltd.). As part of our efforts to preserve the culture of photography, we have assembled a collection of works from some 101*1 leading Japanese photographers from the late Edo period (1603—1867) through to the present day who together have defined the course of Japanese photographic history.
This photo collection, which traces the development of Japanese photographic history, was first featured at the FUJIFILM SQUARE in Tokyo and the Fujifilm Photo Salon in Osaka before embarking on a tour of seven public art museums and galleries,*2 receiving wide acclaim from photographers and experts in the fields of the arts and fine arts. The exhibitions were rated highly and formally approved by the Association for Corporate Support of the Arts for their "contribution to society through the promotion of arts and culture" and permitted to use the official "This is MECENAT 2015" and "This is MECENAT 2016" logos.
We look forward to welcoming all visitors — from those with a deep interest in photography through to young people who have yet to sample the delights of the history of photography — to this extremely rare opportunity to experience the essence of the culture of photography with all images featured in the highest quality silver halide prints.
Name of exhibition
Fujifilm Photo Collection
"My One Shot" — single images of leading pioneers of Japanese photographic history
Dates and Time
March 24 — April 12, 2017
Dates and times
10:00 - 19:00 (last entry: 18:50)
Open every day throughout exhibition
Venue
FUJIFILM SQUARE
Number of exhibits
101
Admission
Entry free
Organized by
FUJIFILM Corporation
Production by
Contact
Supervision by
Photo Classic
Related event :
"Japanese photographic history as seen through the Fujifilm Photo Collection" featuring Kotaro Iizawa (photography critic)
Date and times
Saturday, March 25 13:30—15:00 (doors open at 13:00)
Venue
Conference room on 2F, FUJIFILM SQUARE
Audience capacity
100 persons (prior reservations and first arrivals system)
Admissions
Free
Reservations
from Wednesday, March 1 (10:00—18:00)
Telephone reservations and first arrivals at the FUJIFILM SQUARE reception desk
TEL 03-6271-3350
Telephone reservations accepted between 10:00—18:00
(please note that telephone reservations will close once audience capacity has been reached)
*1 Featured photographers (in chronological order)
Felice Beato
Hikoma Ueno
Renjo Shimooka
Kuichi Uchida
Kimbei Kusakabe
Kazumasa Ogawa
Seibei Kajima
Shinzō Fukuhara
Teiko Shiotani
Kineo Kuwabara
Yasui Nakaji
Roso Fukuhara
Yukio Tabuchi
Hiroshi Hamaya
Koyo Okada
Koyo Kageyama
Tadahiko Hayash
Takashi Kijima
Shoji Ueda
Ihei Kimura
Yoshio Watanabe
Takeji Iwamiya
Shoji Ōtake
Kiyoji Otsuji
Takeyoshi Tanuma
Masayoshi Sukita
Shigeichi Nagano
Yasuhiro Ishimoto
Kikuji Kawada
Eikoh Hosoe
Yoichi Midorikawa
Hideo Haga
Haruo Tomiyama
Shiro Shirahata
Yutaka Takanashi
Yoshihiro Tatsuki
Shisei Kuwabara
Eiichiro Sakata
Kishin Shinoyama
Ken Domon
Naotaka Hirota
Takayuki Ogawa
Hiroji Kubota
Hiromi Tsuchida
Nobuyoshi Araki
Hajime Sawatari
Bishin Jumonji
Kiyoshi Suzuki
Shomei Tomatsu
Daidō Moriyama
Kazuo Kitai
Akihide Tamura
Ikkō Narahara
Jun Morinaga
Taiji Arita
Akira Kinoshita
Naohisa Hara
Tsuneo Enari
Seiji Kurata
Mamoru Sugiyama
Ryoji Akiyama
Kazumi Kurigami
Issei Suda
Sanjiro Minamikawa
Miyako Ishiuchi
Shigeo Gocho
Masahisa Fukase
Shinzo Maeda
Ikuo Nakamura
Hiroshi Yamazaki
Keizo Kitajima
Takeshi Mizukoshi
Taikichi Irie
Mitsugu Onishi
Shinzo Shimao
Hitoshi Fugo
Herbie Yamaguchi
Yoshihiko Ito
Eiko Yamazawa
Tomio Seike
Hiromi Nagakura
Hitoshi Tsukiji
Akito Mizutani
Ryuji Miyamoto
Taishi Hirokawa
Eiji Ina
Yoshihiko Ueda
Toshinobu Takeuchi
Kozo Miyosh
Michio Hoshino
Michiko Kon
Toshio Shibata
Kojo Tanaka
Ryoichi Saito
Tokuko Ushioda
Masato Seto
Kazuyoshi Nomachi
Shotaro Akiyama
Tokihiro Sato
Jun Shiraoka
Hiro Kikai
*2 Photo collection tour venues
Aichi Prefectural Museum of Art (Aichi Prefecture), Itami City Museum (Hyogo Prefecture), Hosomi Museum (Kyoto Prefecture), Kitami Region Museum of Science, History and Art (Hokkaido), Kushiro Art Museum (Hokkaido), Higashikawa Culture Gallery (Hokkaido), Hachinohe City Museum of Art (Aomori prefecture)

In 2016, the Photo History Museum was formally approved by the Association for Corporate Support of the Arts for its "contributions to society through the promotion of arts and culture" and was permitted to use the official "This is MECENAT 2016" mark.