Mount Fuji as seen through the Eyes of Late Edo/Meiji Period Photographers   In Search of 'Heaven on Earth'
Photo History Museum FUJIFILM SQUARE
Mount Fuji as seen through the Eyes of Late Edo/Meiji Period Photographers
In Search of 'Heaven on Earth'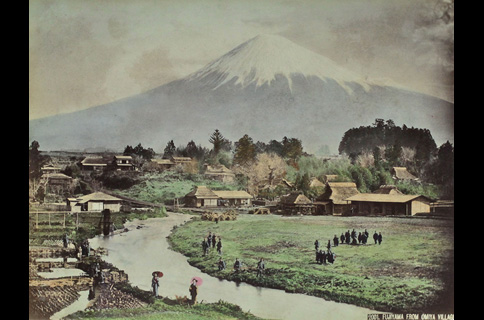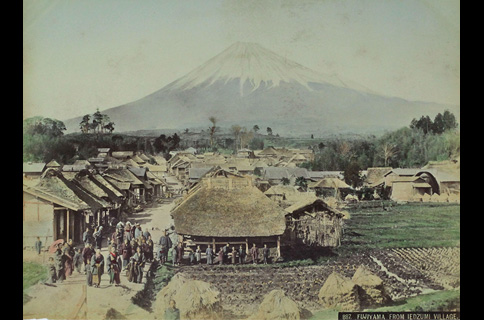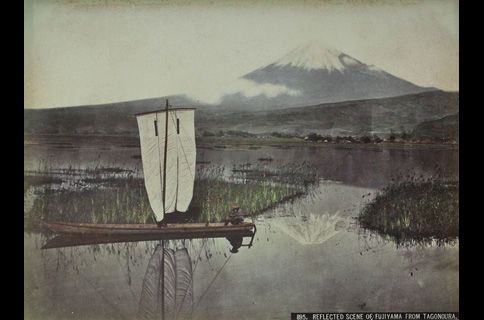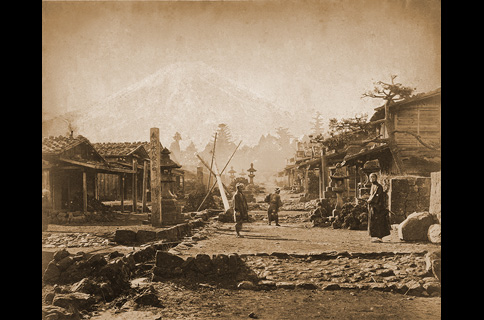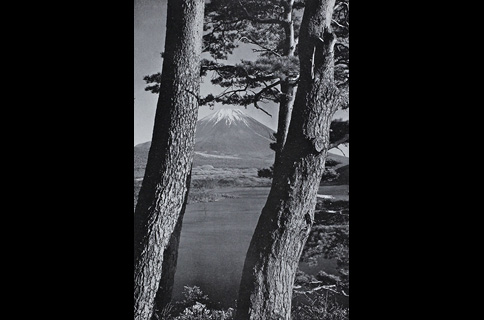 Please note that this exhibition closed on Friday, June 30, 2017
The Photo History Museum at FUJIFILM SQUARE is pleased to announce the photo exhibition "Mount Fuji as seen through the Eyes of Late Edo/Meiji Period Photographers — In Search of Heaven on Earth," which runs from April 13 — June 30, 2017.
The sacred Mount Fuji is an iconic symbol of Japan. The mountain's grandeur and majestic form has captivated people since time immemorial. In ancient times, Mount Fuji was worshipped as a god of water and a god of fire, and during the Edo period (1603 — 1867) the mountain was venerated as a holy site by the Shugendo mountain ascetic religion. As time passed, the mountain came to be enjoyed by large numbers for more secular reasons and has been referred to as 'the people's mountain.' Over time, people have expressed their admiration and respect for Mount Fuji in poems, songs and paintings, and from these it is easy to understand how the great mountain has played such a prominent role in the inner psyche of generations of Japanese people.
Photographic technology first made its way to Japan in 1848. After Japan opened its doors to the world, Mount Fuji soon became a favorite destination of foreign residents and tourists, and was among the most featured subjects in the collection of photographs, known as the Yokohama Photos, that foreign tourists often bought as a souvenir of their trip to Japan. Several foreign photographers resident in Japan during this time began capturing images of Mount Fuji. Its perfect symmetry and the sheer beauty of its appearance led many well-traveled foreigners to coin Mount Fuji as the most beautiful mountain in the world, and the natural beauty of the landscapes that unfolded at the mountain's base was dream-like to many observers. When the British photographer Herbert Ponting went for a walk to explore the foothills of Mount Fuji he was astounded by its beauty. He wrote, "Among all the forests I have visited in Japan, this is by far the most beautiful. I felt like I was in a scene from a fairytale. Truly I have found Arcadia."(*1)
This photo exhibition features a collection of images of Japan's iconic Mount Fuji captured from a range of different perspectives. Many of the images were taken by Kusakabe Kimbei, Felice Beato and Herbert Ponting — photographers who were active in Japan during the Meiji period (1868—1912). The photographs these men bequeathed to us show just how little Mount Fuji has changed over time, but the landscapes that adorn the foothills of the mountain are scarcely believable to the modern-day observer. The photos transport the viewer back some 130 years in time, and we very much hope that visitors to the exhibition will gain a real sense of how Mount Fuji enthralled photographers of the late Edo and Meiji periods in their search for 'heaven on earth.'
*1 Herbert Ponting, In Lotus-land Japan (1910), quoted in Meiji Japan as Seen by British Photographers — a paradise on earth, by Shozo Nagasaki (published by Kodansha, 2005)
Main Featured Photographers
Kusakabe Kimpei (1841—1934)
Kusakabe Kimpei was a Japanese photographer born in Kai Province (modern-day Yamanashi Prefecture). In 1863, he became assistant to Felice Beato, and in 1881 opened his own workshop, the Kimpei Shashin-kan. He is known for his exquisite hand colorings(*2) of albumin prints.
*2 Albumin prints are produced by soaking photographic paper in a solution made by mixing salt and egg white, and applying a silver nitrate solution to make the paper photosensitive. In Japan, it was common for prints to be hand colored by craftsmen using pigments.
Felice Beato (1832—1909)
Felice Beato was an Englishman born in Italy. In 1863, he came to Japan and traveled extensively around the country capturing images of landscapes and interesting episodes. His works had a profound influence on Japanese photographers and painters.
Herbert Ponting (1870—1935)
Herbert Ponting was a British photographer. From 1901, he made several trips to Japan. He is particularly well known for serving as the photographer and cinematographer on Captain Robert Scott's Antarctic exploration expedition (1910—1913).
| | |
| --- | --- |
| Name of exhibition | Mount Fuji as seen through the Eyes of Late Edo/Meiji Period Photographers — In Search of Heaven on Earth |
| Period | April 13 — June 30, 2017 |
| Opening Hours | Open everyday from 10:00 - 19:00 (last entry 18:50) |
| Venue | Photo History Museum, FUJIFILM SQUARE |
| Number of exhibits | 23 (scheduled) |
| Featured photographers | Kusakabe Kimpei, Felice Beato, Herbert Ponting, Ogawa Kazumasa, Watanabe Shiro, Mizuno Hanbei (scheduled) |
| Admissions | Entry free |
| Organized by | FUJIFILM Corporation |
| Cooperation by | Nihon University College of Art |
| Supervising Director | Jun Uchibayashi, Special research fellow at the Japan Society for the Promotion of Science / Graduate School of Arts and Sciences, The University of Tokyo |
| Supported by | The Minato City Board of Education |
| Planning by | Photo Classic, Inc. |

In 2016, the Photo History Museum was formally approved by the Association for Corporate Support of the Arts for its "contributions to society through the promotion of arts and culture" and was permitted to use the official "This is MECENAT 2016" mark.