Decorating with Photos — a Glimpse into the Future with GENIC
Photo Exhibition to Celebrate the 10th Anniversary of the Opening of FUJIFILM SQUARE
Decorating with Photos — a Glimpse into the Future with GENIC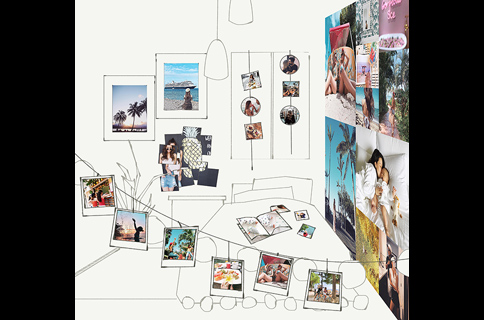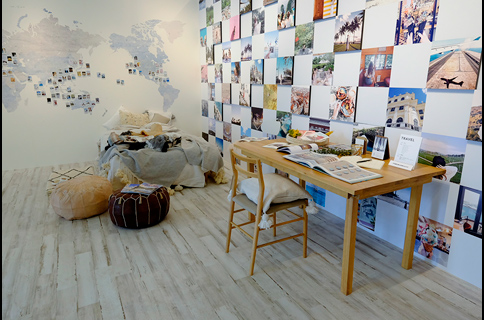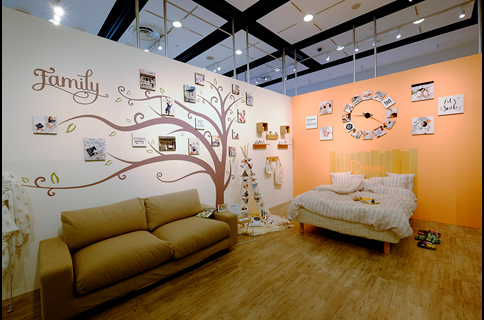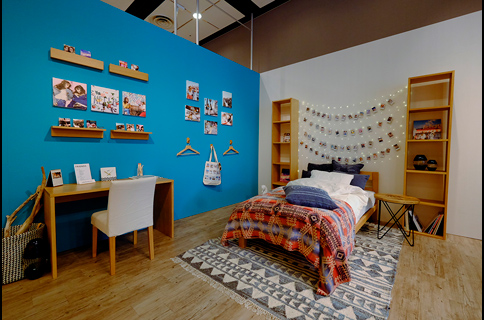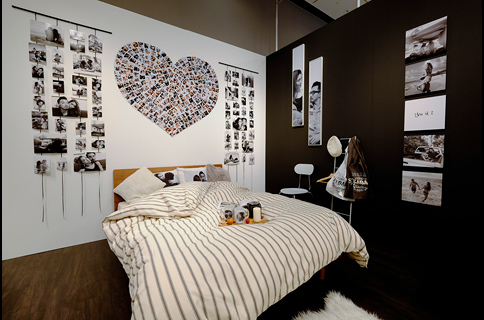 Please note that this exhibition closed on Thursday, April 5, 2018
To mark the 10th anniversary of the opening of the FUJIFILM SQUARE showroom, over the past year we have been holding a series of commemorative photo exhibitions that seek to communicate the past, present and future of photography. On this occasion, we are pleased to present the grand finale to our commemorative photo exhibitions with the hosting of "Decorating with Photos — a Glimpse into the Future with GENIC: Tales of Rooms and Photos by Four Female Instagrammers." The exhibition will be held at FUJIFILM SQUARE from March 23 — April 5, 2018.
With smartphones and social media now an essential part of everyday life, photos are diversifying all the time — even to the point where many photos today are judged by how "instagenic" they are, or how well they are received on Instagram. Fujifilm is constantly contemplating the future of photography and photos, and in collaboration with the camera and travel lifestyle magazine for women GENIC (mitsubachiworks inc.) Fujifilm is decorating its FUJIFILM SQUARE showroom with photos of the rooms of four young women who have gained a massive following on Instagram.
With our WALL DECOR*1 online ordering service for personalized photo products, Shacolla*2 foam panel for photo wall decorations, and our SP-2 and SP-3 printers that enable instant prints of photos taken with our popular instax mini and square-format instax SQ10 instant cameras, Fujifilm is operating a range of print services that give images taken with smartphones an artistic finish. Everyone is welcome to come along and take a glimpse into the future by viewing a range of artistic ways of decorating with photos.
*1 WALL DECOR — a new online ordering service that provides home delivery of ordered photos and panels for wall decorations.
*2 Shacolla — double-side self-adhesive foam panel that can be used multiple times to attach new pictures.
Name of exhibition
"Decorating with Photos — a Glimpse into the Future with GENIC: Tales of Rooms and Photos by Four Female Instagrammers"
- A Photo Exhibition to Celebrate the 10th Anniversary of the Opening of FUJIFILM SQUARE
Dates and Time
March 23 — April 5, 2018
Dates and times
10:00 - 19:00 (open until 14:00 on final day of the exhibition)
Last entry is 10 minutes before closing time
Venue
FUJIFILM SQUARE
Admission
Free
* Please note that we are holding this exhibition as a Mecenat company, and we are providing free admission to attract as many visitors as possible.
Co-organized by
mitsubachiworks inc.
Exhibition details
Eriko loves traveling, Atsuyo has recently started a family, Anri just adores her friends and Harue is head over heels in love with her boyfriend. For these four popular female Instagrammers, photos are an essential part of the interior design of their respective abodes, and all four have decorated their rooms with their favorite photos.

In today's digital age, there has never been a better time to think freely and creatively, and enjoy decorating with great photos. Come along and allow us to take you on trip to glimpse the future of photo decorating.
Four Rooms by Four Girls
Room1 Travel photos by Eriko
Eriko has created a fabulous display of travel photos taken in a variety of countries that pretty much takes up the whole room
Room 2 Family photos by Atsuyo Takada
Atsuyo is surrounded by warm and loving photos of her family
Room 3 Friends photos by Anri Nakajima
Anri loves her photo decorations that remind her of great times spent with her many friends
Room 4 Lovers photos by Harue
Anri has decorated her room with photos that bring back memories of all those loving moments with the one she loves
Instagrammers
Eriko (Pro traveler®)
Instagram: @eriko_s2
Blog:https://www.dclog.jp/eriko_s2

Eriko is a fashionable 'pro traveler®' who selects just the right camera or device to capture images that bring out the full beauty of overseas destinations, and who always coordinates her fashion according to the country she is visiting.
Atsuyo Takada
Instagram: @atsuyosworld
Blog:https://mebts.com/atsuyosworld
Atsuyo is a popular Instagrammer who met and married a Taiwanese-American guy while studying abroad. In 2017, she gave birth to a baby, and currently lives in Tokyo.
Anri Nakajima (Pro traveler®)
Instagram:@anrinakajima
Blog:https://www.dclog.jp/anrinakajima/

Anri is of Filipino and Japanese descent, and works as a model for fashion magazines. She is a 'pro traveler®', and is an active blogger and YouTuber.
Harue
Instagram: @harue_daysoflove2
Blog:https://www.dclog.jp/boachqn/

Harue is a multi-blogger on a wide variety of subjects. Her blog on her life with the boyfriend she has been with for the past five years and her fashion blog in which she gives tips on how to dress stylishly are hugely popular.
* 'Pro traveler®' is a new concept created by mitsubachiworks inc. whereby travelers journey to different countries with the mission of relaying the joys of traveling.
'Pro traveler®' is a registered trademark of mitsubachiworks inc.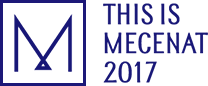 In 2017, the Fujifilm Photo Salon was formally approved by the Association for Corporate Support of the Arts* for "contributions to society through the promotion of arts and culture" and was permitted to use the official "This is MECENAT 2017" logo.
* The Association for Corporate Support of the Arts was established in 1990 with the aim of actively encouraging corporate support for the arts. It is the only such organization in Japan.