'Young Photographers' New Stories'   Hidehiro Otake Solo Exhibition   The Northwoods — the Land that Gives Life
Fujifilm Photo Salon Young Photographers Support Project —
'Young Photographers' New Stories'
Hidehiro Otake Solo Exhibition
The Northwoods — the Land that Gives Life
The woodland caribou lives in a world of forests and lakes.
© Hidehiro Otake

The timber wolf is covered in winter fur to help it withstand the harsh winter conditions that can reach temperatures of -40 degrees.
© Hidehiro Otake

A polar bear waits for the big freeze at Hudson Bay
© Hidehiro Otake

The Athabasca sand dunes are one of the northernmost sand dunes in the world.
© Hidehiro Otake

Sunrise over Lake Superior — the world's largest freshwater lake.
© Hidehiro Otake
'Young Photographers' New Stories'
To enable young photographers to discover the significance and enjoyment of photo exhibitions and to further develop the culture of photography, the Fujifilm Photo Salon, Tokyo, invites applications from young photographers to display their works as part of our 'Young Photographers' New Stories' series. These exhibitions have been held several times each year since 2013. To further encourage young photographers to exhibit their works, Fujifilm provides the prints and supports the photographers with production costs, etc.
Exhibition outline
Project 19 is a photo exhibition by Hidehiro Otake, a photographer who has spent 20 years exploring the Northwoods — a vast boreal forest and lake district that spans the northern states of the USA and extends northwards through Canada as far north as the Arctic Circle.
Exhibition content
Hidehiro Otake has been capturing images of the Northwoods for the past 20 years. The Northwoods are the boreal forest of North America, stretching from close to the US-Canada border in the south to as far north as the Arctic Circle. One of the largest intact forests in the world, it is home to a variety of wildlife including caribou, wolves and polar bears. This vast wilderness also features the Pimachiowin Aki landscape — translated as 'The Land that Gives Life' from the language of the indigenous Anishinaabe people — which was inscribed as Canada's first mixed cultural and natural UNESCO World Heritage Site in 2018. Visitors to the exhibition will be able to view beautiful images of the poetic scenery and interplay between forests, rivers, lakes and ice captured by Otake.
A Message from the Photographer
My aim is to relate the wondrous sights I have beheld in the some of the most remote locations that nature has to offer. I would also like to prompt exhibition visitors to ponder the connection between humans and nature. This has been one of my dearest wishes ever since I started mountain climbing when I was still at university, and the camera has provided me with the means to make this possible.

My first encounter with the Northwoods was back in 1999, soon after I graduated from university. I was keen to see wolves living in the wild, which had already become impossible closer to home after their extinction in Japan. I made my way to the forests in the northern part of the US state of Minnesota. Completely lacking any information, I ventured into the forest, and began using a native Canadian canoe. As I paddled across the surface of the water, I soon found myself in Canada's vast wilderness.

Every time I went back I made new discoveries. I saw various types of wildlife fully adapted to living in the natural environment. And when lightning struck and ignited a forest fire, I was fascinated to learn that the fire didn't only bring destruction but also performed an important role in maintaining an abundant ecosystem.
The indigenous Ojibwe people (who call themselves Anishinaabe) have lived in this area for generations as hunters and gatherers. Now, after 20 years of experience observing the nature and their traditional way of life, I'm finally beginning to understand why these people call their natural habitat 'Pimachiowin Aki', or 'the land that gives life'.

Animals, vegetation, humans, even rocks, stones, water, fire, wind and snow — this world gives life to all forms of existence, and no resource is wasted. I very much hope that this exhibition will encourage you to think anew about this, and serve as an opportunity to prompt as many people as possible to think about how we might create a better future for the planet.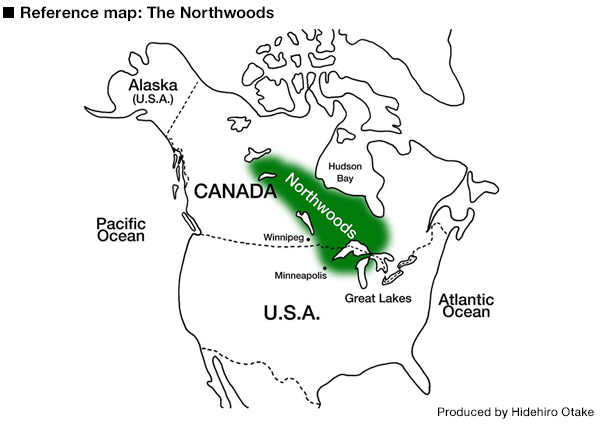 Hidehiro Otake — profile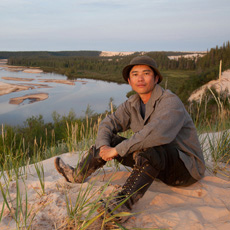 Otake was born in Maizuru city in Kyoto prefecture in 1975 and raised in Setagaya ward in Tokyo. He graduated with a degree in sociology from Hitotsubashi University. Since 1999, his main field has been the boreal forest of North America called "The Northwoods". His photographic subjects are landscapes, wildlife and First Nation culture. Otake's works have been featured in major media including National Geographic Japan, Canadian Geographic, the L.A. Times and NHK. He has published six children's books (published by Fukuinkan Shoten) including "Living in the Northwoods", "The Watching Woods", and "Looking for Spring". He also published an account of his first trip to North America titled, "And then, I went on a journey. It began in the Northwoods", which received the 7th Tadao Umesao Mountain and Exploration Literary Award. He was also the winner of the first prize in the nature category at the NIKKEI National Geographic Photo Prize 2018.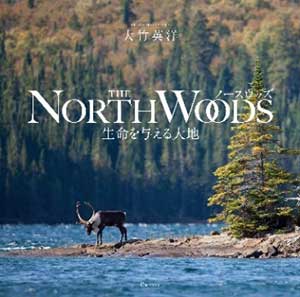 Hidehiro Otake's first photo collection
"The Northwoods — the Land that Gives Life" is now on sale!
Foreword by Jim Brandenburg (photographer)
Additional contribution by Sophia Rebliauska (member of the Anishinaabe First Nation in Canada)
Size: 238×240mm / No. of pages:216 / All photos in color
Price: ¥2,500+tax
ISBN: 978-4-909532-37-4
Published by Crevis Inc.
Name of exhibition
'Young Photographers' New Stories'
Hidehiro Otake Solo Exhibition   The Northwoods — the Land that Gives Life
Dates and times
November 13 — 26, 2020
10:00 — 19:00 (closes at 16:00 on final day of exhibition; last entry ten minutes before closing)
Venue
FUJIFILM SQUARE Space 2
Admission
Free
Number of exhibits
Approx. 50 prints (full size and double size prints all in color)
Exhibition roadshow
June 26 — July 9, 2020 * Closed on June 28
Fujifilm Photo Salon Osaka
2-5-7 Met life Honmachi Square, Honmachi, Chuo-ku, Osaka 541-0053
Organized by
FUJIFILM Corporation
Supported by
The Setagaya City Board of Education and Minato City Board of Education
Project planning by
Crevis Inc.