In 2021, as COVID-19 continued its threat, FUJIFILM SQUARE gave top priority to ensuring the safety of visitors, exhibitors and staff. Still, leaving out the 37 days that we were temporarily closed to prevent further spread and the year-end and New Year holidays, FUJIFILM SQUARE was open for 322 days, during which we held 79 photo exhibitions and welcomed about 250,000 visitors. Through the FUJFILM SQUARE website, we released 11 videos, which included more interviews with exhibiting photographers from the project we started last year, and a new expose about the Photo History Museum by our concierge. The total number of views reached 22,572. We also launched an online Floor Guide so that the general public can know what to expect when they come to FUJIFILM SQUARE.
FUJIFILM SQUARE 2021 Activity Report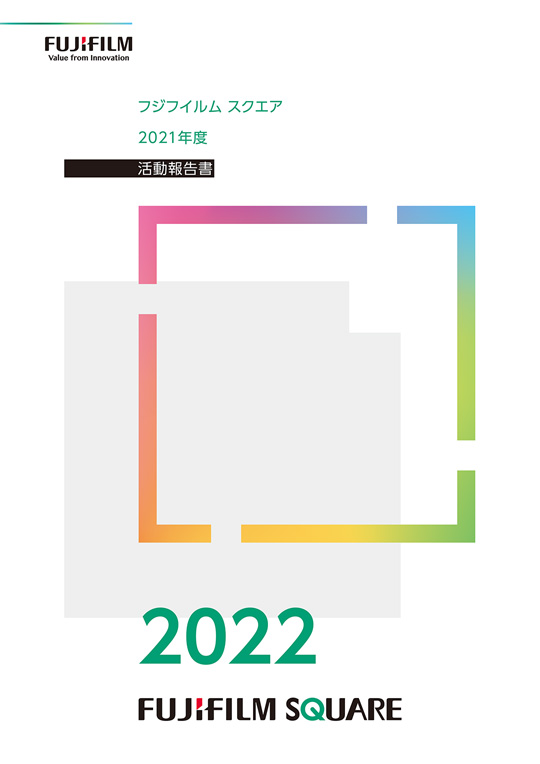 Looks back at FUJIFILM SQUARE's activities in 2021 via individual reports on the photo exhibitions organized by Fujifilm, a timeline of all exhibitions and a summary of the facilities and more.
Back Numbers
2020 Activity Report (PDF: 11.6MB, Japanese only)
2019 Activity Report (PDF: 5.8MB, Japanese only)
2018 Activity Report (PDF: 8.0MB, Japanese only)
2017 Activity Report (PDF: 8.0MB, Japanese only)
FUJIFILM SQUARE 2021 Activity Topics