Exhibitions & Events
Please note that the exhibition may be subject to postponement or change or cancelation due to unavoidable circumstances. Thank you for your kind understanding.
March 2021
March 2021 Event  (PDF: 1.3MB)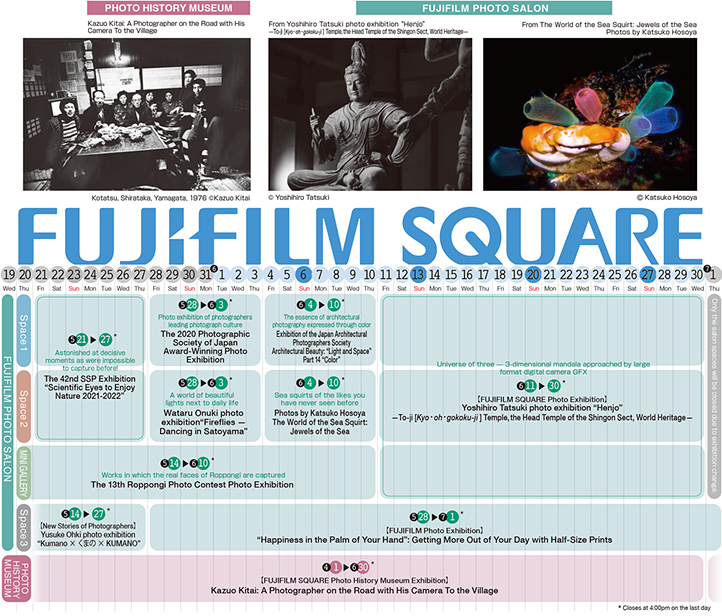 PHOTO HISTORY MUSEUM
Ryoji Akiyama
Tsugaru: Ryōji-sensei gyōjōki (Tale of Tsugaru by Ryoji-sensei)
Date : January 4, 2021 (Mon.) — March 31, 2021 (Wed.)



Ryoji Akiyama (1942—) is one of the principal photographers of postwar Japan. His photographs of the people and the sights he has come across on his travels and sojourns in Japan and abroad are captured with a unique sense of distance and timing, and highly acclaimed both internationally and in Japan. ....
Kazuo Kitai: A Photographer on the Road with His Camera
To the Village
Date : April 1, 2021 (Thu.) — June 30, 2021 (Wed.)



Kazuo Kitai (1944—) is a leading photographer in postwar Japan. Highly acclaimed in Japan and abroad and still attracting international attention today, his works, which are focused on motifs from daily life, capture the age with precision. ....
FUJIFILM SQUARE
FUJIFILM SQUARE Photo Exhibition
Japan as Seen from the Ocean
(1) "Lives cultivated by ocean currents"—Power of the Black Current, blessing of the Oyashio current—
Hideki Abe, Yasuaki Kagii, Teru Sato, Katsunori Seki, Itaru Takaku
Date : March 12, 2021 (Fri.) — April 1, 2021 (Thu.)



Japan is an island country surrounded by the ocean. The ocean that is close and essential to those of us living in this country is facing various crises now. There is no doubt that human activities ultimately have a huge impact on the marine environment, with problems including declining fishing catches and marine pollution due to plastic waste. ....
FUJIFILM SQUARE Photo Exhibition
Japan as Seen from the Ocean
(2) "is Blue"—Yasuaki Kagii × Fumino Kimura
Date : March 12, 2021 (Fri.) — April 1, 2021 (Thu.)



A joint exhibition by Yasuaki Kagii, photographer, and Fumino Kimura, actress.
Yasuaki Kagii has gained an esteemed reputation for his dreamy and beautiful underwater photographs captured all around the world. Fumino Kimura is mesmerized by diving and marine creatures and often spends her private life outdoors. The photographer and actress are both active in their main careers went on a diving tour together in Japanese oceans as divers and collaborate in photographs shot with their own preferences. ....