Dates and Times
Friday, August 29 -- Tuesday, September 30, 2008. Open daily, 11:00--20:00.
Number of exhibits
approx. 90
Venue
PHOTO IS Gallery, 1st floor, FUJIFILM SQUARE
Admission
Free
Sponsor
The Japan-Nederlands Society
Supporter
FUJIFILM Corporation
Nominal support
Embassy of the Kingdom of the Netherlands, Minato City Board of Education
Cooperation
Netherlands Board of Tourism & Conventions
PHOTO IS
Showa Japan seen through Dutch eyes
Please note that this exhibition closed on Tuesday, September 30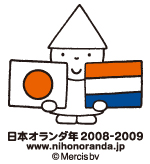 The "PHOTO IS" gallery at FUJIFILM SQUARE is pleased to present the photo exhibition "Showa Japan seen through Dutch eyes". It runs from August 29 to September 30, 2008.

This year marks the 150th anniversary of the establishment of diplomatic ties between Japan and the Netherlands, while 2009 commemorates 400 years of commercial ties between the two countries. Fujifilm is celebrating these memorial years in the history of Japan and the Netherlands with an exhibition of photographs taken by two Dutchmen in Japan during the early postwar period.

Hans Brinckmann was born in The Hague. He joined a Dutch bank and was assigned to the bank's Kobe branch in 1950, aged 18. At that time, Japan was still recovering from the devastation of the war that had ended only five years earlier. In 1955, a fellow countryman, Ysbrand Rogge, was sent to work at the same branch. Brinckmann and Rogge became fascinated with Japanese life and culture, and used their weekends to travel around the country capturing images of the lifestyles of ordinary Japanese at work and play, as well as scenery, traditional arts and crafts, festivals, religious ceremonies, etc., and, in 1960, the mass demonstrations against the U.S.-Japan Security Treaty. This exhibition presents a selection of the photographs taken by these two Europeans of a period in Japan's history that is in danger of being forgotten by the Japanese themselves.

Photographic techniques and equipment were originally imported into Japan from the Netherlands. The exhibition includes a display of several valuable archived documents and photographs testifying to this historical fact, thereby prompting visitors to once again contemplate the long-standing ties between Japan and the Netherlands.

A corner featuring a variety of products from the Netherlands will be set up from September 13 15 at the Photo Cafe on the first floor of FUJIFILM SQUARE. The featured products include an exhibition of a traditional Dutch street organ, Dutch clogs and Delft pottery. Several arts and crafts and foodstuffs from the Netherlands will also be on sale. We very much hope that visitors will come and experience Dutch customs and culture.

In addition, a mini performance of the street organ will be held during the three-day event.