A Titan of Showa Era Photography: The Work of Tadahiko Hayashi as a Narrative on His Times
The Photo History Museum at FUJIFILM SQUARE Presents
A Titan of Showa Era Photography:
The Work of Tadahiko Hayashi as a Narrative on His Times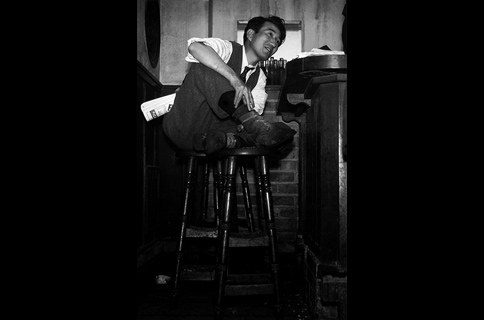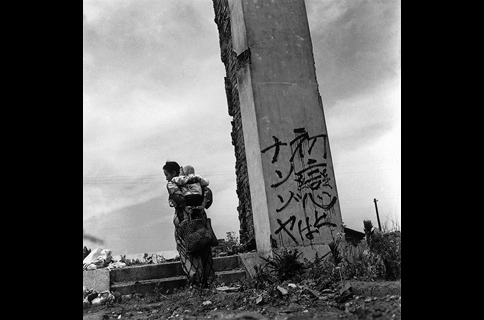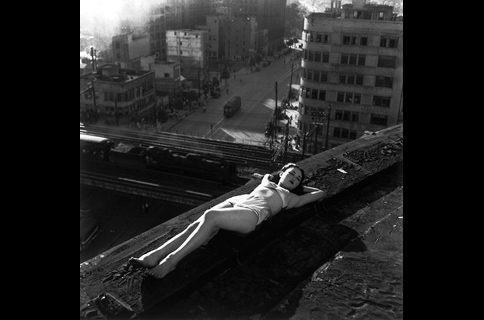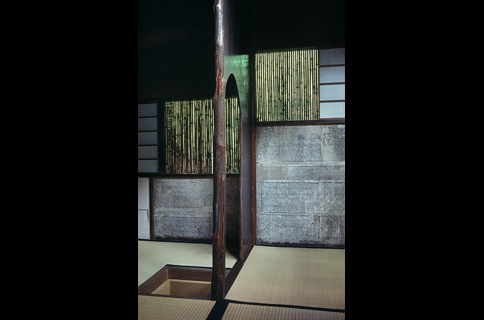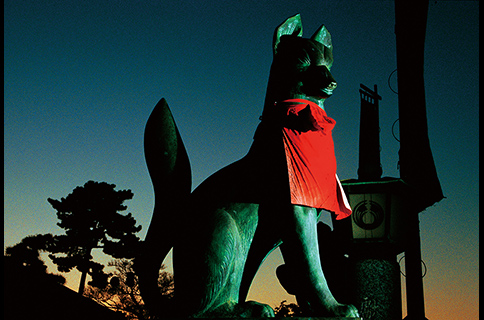 Please note that this exhibition closed on Tuesday, July 31, 2018
The Photo History Museum at FUJIFILM SQUARE is pleased to present an exhibition of the works of photographer Tadahiko Hayashi, marking this year's centenary of his birth. The exhibition runs from April 1 to July 31, 2018.
Known for his portraits of the authors Osamu Dazai and Ango Sakaguchi, Tadahiko Hayashi relaunched his career in the immediate postwar era from Ginza, riding the wave of the kasutori * magazine boom, and winning instant popularity as a photographer. Throughout the tumultuous Showa Era (1926—1989), as Japan transitioned through the Second World War and the era of rapid economic growth, followed by the "bubble economy," Hayashi caught everything around him on camera, from snapshots portraying social conditions and portraits of intellectuals and artists to scenic photographs that sought to depict the essence of Japanese culture. Driven by the energy of a resurgent Japan, Hayashi furiously photographed everything he saw, and this prolific way of working earned him a well-deserved reputation as a titan of Showa Era photography.
This exhibition, supervised by Tadahiko Hayashi's fourth son, the photographer Yoshikatsu Hayashi, focuses on two periods during the nearly 50 years that his father was active, looking back on his achievements from a new perspective. Part 1 of the exhibition displays monochrome photographs documenting postwar Tokyo and its people, epitomized by Hayashi's early masterpiece, Kasutori jidai. Part 2 exhibits color photographs handpicked from Hayashi's Chashitsu and Tokaido anthologies. The Chashitsu anthology features traditional tea ceremony venues throughout Japan designated as national treasures or important cultural properties, and represents the pinnacle of Hayashi's aesthetic sense and camera technique; the Tokaido anthology was completed as his final lifework with the help of his son Yoshikatsu. The various works demonstrate the contrast between the early years of Hayashi's photographic activity and the work he undertook toward the end of his life, at the same time highlighting his unwavering conviction that photographs serve as records. Every one of Hayashi's photographs is imbued with a power that brings the era and the photographer's feelings to life, evoking a strong emotional response.
Immerse yourself in the world of Tadahiko Hayashi, the Showa Era's great photographic titan.
* Kasutori derives from kasutori shochu (a rotgut liquor), which was manufactured illicitly during the postwar period when commodities were scarce. The magazines launched one after the other at that time were called kasutori magazines, in a play on words likening them to drinkers of the liquor. Just as kasutori shochu drinkers fell apart after their third drink, so most of the magazines failed after their third issue.
Tadahiko Hayashi (1918—1990) : Profile
Hayashi was born in 1918 as the first son of a family that ran a photographic studio in Tokuyama (now Shunan), Yamaguchi Prefecture. In 1938 he graduated from the Oriental School of Photography. In 1942 he formed the North China News Photography Association and traveled to Beijing as a press photographer. After returning home to Yamaguchi Prefecture from Beijing in 1946, he went to Tokyo, where he started publishing his photographs in more than 20 magazines each month. In 1971 he won the Annual Award of the Photographic Society of Japan for his photo anthology Nihon no sakka [Japanese authors] (published by Shufu-to-seikatsusha in 1971). He subsequently published many photo anthologies, including Kasutori jidai [The kasutori period] (Asahi Sonorama, 1980), Nihon no iemoto [The iemoto of Japan] (Shueisha, 1983), Chashitsu [Teahouses] (Fujingaho, 1986), and Tokaido [The Tokaido] (Shueisha, 1990). In 1983 he was awarded Japan's Medal with Purple Ribbon, followed by the Fourth Order of the Rising Sun, Gold Rays with Rosette in 1988. In 1990 he died of liver cancer at the age of 72. In 1992, the Tadahiko Hayashi Award was instituted by the city of Shunan and the Shunan Foundation for the Promotion of Culture. Since Hayashi's death, his photographs have continued to be exhibited and published as anthologies on numerous occasions.
Title
A Titan of Showa Era Photography:
The Work of Tadahiko Hayashi as a Narrative on His Times
<Part 1> Caught on Camera: The Tumultuous Showa Era
<Part 2> Caught on Camera: Scenes of Old Japan
Period
<Part 1> April 1st, 2018 (Sun.) — May 31st, 2018 (Thu.)
<Part 2> June 1st, 2018 (Fri.) — July 31st, 2018 (Tue.)
open every day from 10:00 — 19:00 (last admission 18:50)
Number of works
approx. 25 works/part
Venue
The Photo History Museum at FUJIFILM SQUARE
Admissions
Free
Organized by
FUJIFILM Corporation
Supervising Director
Yoshikatsu Hayashi (Tadahiko Hayashi Archives)
In Corporation with
Shunan City Museum of Art & History
Supported by
Minato City Board of Education
Planning by
Photo Classic
Events during the exhibition
Tadahiko Hayashi's fourth son, the photographer Yoshikatsu Hayashi (Representative of Tadahiko Hayashi Archives) will give a lecture about his father, the photographer Tadahiko Hayashi the person as well as his photographs.
Date
<Part 1>
April 21st, 2018 (Sat.), 14:00-14:30 and 16:00-16:30
May 12nd, 2018 (Sat.), 14:00-14:30 and 16:00-16:30
<Part 2>
June 23rd, 2018 (Sat.), 14:00-14:30 and 16:00-16:30
July 14th, 2018 (Sat.), 14:00-14:30 and 16:00-16:30
Venue
The Photo History Museum at FUJIFILM SQUARE
Admissions
Free
* No registration required
* No seats available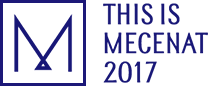 In 2017, the Photo History Museum was formally approved by the Association for Corporate Support of the Arts for its "contributions to society through the promotion of arts and culture" and was permitted to use the official "This is MECENAT 2017" mark.