Shinzo Maeda, a Photographic Explorer Seeking Color: The Quest for New Discoveries
The Photo History Museum at FUJIFILM SQUARE Presents
Shinzo Maeda, a Photographic Explorer Seeking Color: The Quest for New Discoveries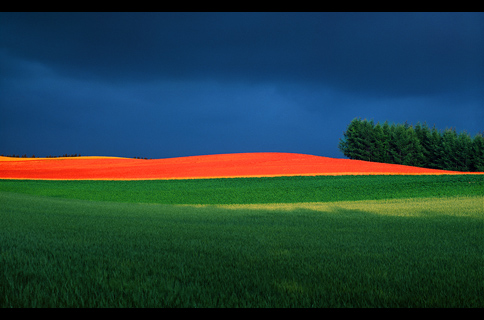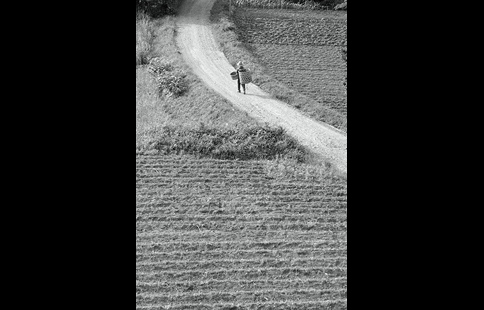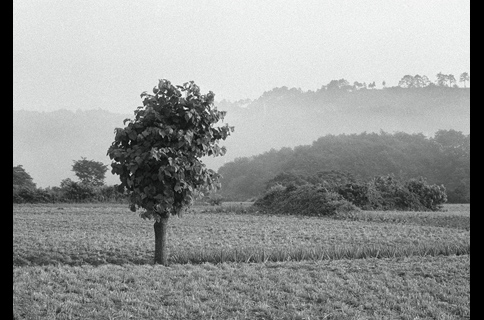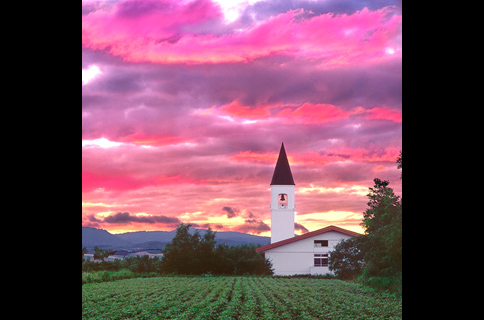 Please note that this exhibition closed on Thursday, February 28, 2019
The Photo History Museum at FUJIFILM SQUARE is pleased to present an exhibition of the works of the landscape photographer Shinzo Maeda, the 20th anniversary of whose death takes place in 2018. The exhibition runs from November 1, 2018 to February 28, 2019.
Shinzo Maeda was a photographer who determined the course of Japanese landscape photography in the 1970s. His unique style captures nature with a sophisticated sense of form, discovering new beauty in the Japanese landscape, and has influenced many landscape photographers until the present day. The beautiful hilly landscapes of Biei and Kamifurano in Hokkaido have become widely known as a result of Maeda discovering their beauty and publicizing it in the form of photographic works.
Born in 1922 in what is now the city of Hachioji in Tokyo, Maeda worked first in a trading company, then founded Tankei Photo Agency Co., Ltd. in 1967, where he started his photographic activities with a business renting out and selling photographs as products. It was in 1971 that his destiny changed. This change was prompted by his stopping off at the town of Biei in Hokkaido on his way home from a three-month photography trip during which he travelled the entire length of Japan. There he saw hills rolling endlessly into the distance and colorful land dotted with trees. This vast hilly landscape filled Maeda with powerful inspiration, and he subsequently pioneered a new field of landscape photography drawing on his own unique style.
The exhibition will be divided into two parts to display landscape photographs representing two periods in Maeda's photographic life: the monochrome photographs with which he started, and the color photographs for which he is best known. The first part, entitled "The Home Village Period," will show works shot in the 1950s and 1960s depicting Maeda's home village of Ongata in Tokyo, and other rustic country scenes from all over Japan. The second part, entitled "The Hills Period," will show works shot after his first encounter with the hills of Biei in 1971. This part features the dye transfer prints* that Maeda created with particularly close attention to detail. This large collection of photographs, starting with scenes of Maeda's fondly remembered birthplace and taken over a period of around 40 years, allows viewers to experience the rich scenic exploration that Maeda pursued so diligently. His esthetic, his philosophy, and even his way of life, honed by Maeda himself through his own photographic experience, are condensed in this substantial oeuvre.
Maeda observed that "thoughts are limited, but feelings are without limits." These words bring to mind the sight of land extending limitlessly into the distance, and combined with scenes that retain their eternal allure in the form of photographs, they are sure to awaken an esthetic sensibility that we had all but forgotten. Visit the exhibition and immerse yourself in the world of the landscape photographer Shinzo Maeda.
* Color prints produced by separating color photographs into three colors (yellow, magenta, and cyan) and transferring the dyes. They are distinguished by depth of color and full expression of gradation. Since 1995 the technique has gradually been disappearing because the process is complicated, the work requires a high degree of skill, and the cost is high.
Shinzo Maeda (1922—1998): Profile
Shinzo Maeda was born in 1922 in the village of Shimo-Ongata in the Minamitama district of Tokyo (now Ongata town within Hachioji city in Tokyo). After attending Tokyo's Shokusen (weaving and dyeing) School, and Takushoku University, he joined Nichimen Corporation in 1948, after the end of the Second World War. In 1967 he founded Tankei Photo Agency Co., Ltd. and started his photographic activities. In 1971 he came across the landscape of the hilly area near Biei in Hokkaido while returning from a photography trip. In 1974, he published his first photo anthology, Furusato no shiki [The four seasons of a home town] (Mainichi Shimbunsha). He subsequently established his own style within the landscape photography field. In 1987 he opened his own photo gallery in Biei, known as Takushinkan. He received many awards, including the Photographic Society of Japan Annual Award (1984) and the Special Prize in the Mainichi Publication and Culture Award (1985). He passed away in 1998 at the age of 76. In 1999 Takushinkan won the Photographic Society of Japan Cultural Advancement Award. In the same year the Shinzo Maeda Award was inaugurated as a newcomers' award for landscape photography. Maeda's photographs are still on permanent display at the Takushinkan, as well as at other venues such as Hachioji's Yuyake Koyake Fureai no Sato Gallery, and are widely popular.
Title
The Photo History Museum at FUJIFILM SQUARE Presents
Shinzo Maeda, a Photographic Explorer Seeking Color: The Quest for New Discoveries
Part 1 The Home Village Period
Part 2 The Hills Period
Period
Part 1 November 1, 2018 (Thu.) — December 28, 2018 (Fri.)
Part 2 January 4, 2019 (Fri.) — February 28, 2019 (Thu.)
Open every day from 10:00 to 19:00 (last admission 18:50)
Number of works
approx. 25 works/part
Venue
The Photo History Museum at FUJIFILM SQUARE (Tokyo Midtown West)
Admission
Free
Organized by
FUJIFILM Corporation
Supervising Director
Akira Maeda (Tankei Photo Agency Co., Ltd.)
Supported by
Minato City Board of Education
Planning by
Photo Classic
Events during the exhibition
Shinzo Maeda's first son, the photographer Akira Maeda (Tankei Photo Agency Co., Ltd.), will talk about his father Shinzo as a person and his works, and tell some stories about how he took his photographs.
Date
December 15, 2018 (Sat.), 14:00—14:30 and 16:00—16:30
January 26, 2019 (Sat.), 14:00—14:30 and 16:00—16:30
February 9, 2019 (Sat.), 14:00—14:30 and 16:00—16:30
Venue
The Photo History Museum at FUJIFILM SQUARE
Admission
Free
* No registration required
* No seats available
[ Japan Mécénat Awards ]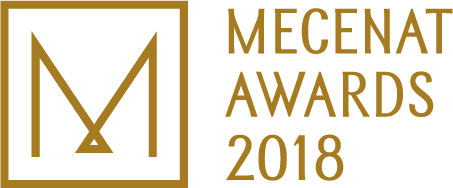 In 1991, the Association for Corporate Support of the Arts founded these awards, which recognize highly beneficial projects by corporations and corporate foundations for the support of the arts, with the aim of encouraging corporate patronage of artistic projects and increasing public interest in these activities.
The awardees are decided on the basis of an evaluation that covers the company's ingenuity and making use of its managerial resources, the involvement of the company in the arts, culture and the wider community, the company's attitude to continuing and expanding the activities, and the activities' degree of importance in contributing to the arts and wider culture.
This year's awards, entitled "This is MECENAT 2018", attracted 152 entrants. A town of third-party experts selected a total of seven awards, namely, the Grand Mécénat Award, five Awards for excellence and the Award Granted by the Commissioner for Cultural Affairs.