FUJIFILM SQUARE Photo Exhibition   MJ — Michael Jackson on Stage
FUJIFILM SQUARE Photo Exhibition
MJ — Michael Jackson on Stage
Bad World Tour
Image Credit : Mirrorpix/Aflo

Thriller
Image Credit : Photofest/Aflo

Bad World Tour
Image Credit : Hitoshi Katanoda/Aflo

The Jackson 5
Image Credit : Paul Slaughter/Retna/Aflo

Thriller
Image Credit : Alamy/Aflo

Smooth Criminal
Image Credit : Photofest/Aflo

HIStory World Tour
Image Credit : Mark Shenley/Camera Press/Aflo
Please note that this exhibition closed on Thursday, July 30 , 2020
We are pleased to announce the photo exhibition 'MJ — Michael Jackson on Stage', which will be held at FUJIFILM SQUARE from July 10 — 30, 2020.

Michael Jackson was born into a large family in the industrial city of Gary in the US state of Indiana on August 29, 1958. He made his TV debut in 1969 as the lead singer and the youngest of five brothers who had formed the group the Jackson 5. Shortly after, the group set a record with their first four singles all reaching number one in the US billboard charts, and Michael Jackson was on the way to superstardom.

After launching a career as a solo artist, his 1982 album 'Thriller' topped the US Billboard 200 chart for 37 consecutive weeks, and he received awards in eight separate categories at the 26th Grammy Awards. As the music industry enjoyed a golden age from the 1980s to the 1990s, music videos were made to promote new music releases, and these gradually evolved into short format movies. Among Michael Jackson's many achievements were transforming these music promotion videos into veritable works of art.

The remarkable harmonization and fusion of his music with his unique dance performances and genius as a producer paved the way for today's musical scene of which visual images are a vital component. He is widely regarded as the most successful and influential entertainer in history due to his many achievements. It is now over ten years since Jackson passed away on June 25, 2009, but his music and dancing continue to attract new generations of fans.

This exhibition features still images from the archives of Michael Jackson's various works of art, as well as videos and photographs of Jackson performing during three of his world tours that sent fans around the world into frenzies of delight and which are considered major steps in the development of today's music.
Chapter 1 — Moments
At the age of only five, Michael Jackson began performing as the lead vocalist in the Jackson 5, the band formed by his four older brothers. After a stunning debut on the famed Motown record label, his genius as a composer and lyricist began to emerge in his later teen years. While maintaining ties with the Jackson 5, he also set out on a career as a solo artist, which was to bring him unparalleled success. This chapter features still images taken from the short format films produced for his hits 'Thriller', 'Beat it' and 'Bad', and traces the route he followed to become the world's leading entertainer both as a live performer and a music video star.
Chapter 2 — Journey
The innovative live performances that Michael Jackson created made fans wild with excitement, and redefined the concept of what a live concert could be. His first solo world tour, 'Bad', kicked off in Japan, and concluded after he had performed an exhausting 123 concerts in 15 different countries. The 'Dangerous World Tour' marked a change to a more dynamic and extravagant production, while the "HIStory World Tour" attracted some 4.5 million fans — the most attended tour by any artist ever. This chapter features photographs that depict Michael Jackson's dynamic performances at these three world tours.
Name of exhibition
MJ — Michael Jackson on Stage
Dates
10 — 30 July 2020
10:00 — 19:00 (closes at 14:00 on final day of exhibition; last entry is 10 minutes before closing) open everyday throughout the exhibition
Venue
FUJIFILM SQUARE
Admission
Free
* This exhibition is being held as a corporate MECENAT event, and we are pleased to announce that admission will be free to enable more people to attend the exhibition.


* Please note that we may be required to limit the number of visitors during busy periods.

Measures to contain the spread of novel coronavirus infections

Organized by
FUJIFILM Corporation
Supervised by
Gota Nishidera (Nona Reeves)
Planning and production by
Crevis Inc.
Profile — Gota Nishidera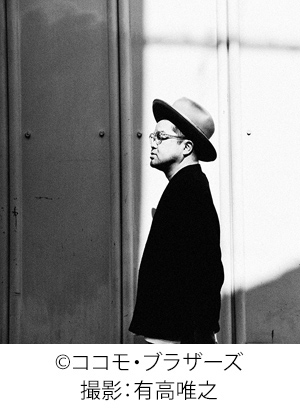 Born in Tokyo in 1973, and raised in Kyoto, Nishidera is the vocalist and main songwriter of the Japanese pop band Nona Reeves, which was formed while he was a student at Waseda University. The band released its debut album in 1996.
Since then, he has been active as a music producer, lyricist and songwriter for boy bands, SMAP, V6, YUKI, Masayuki Suzuki, Yasuyuki Okamura, Shiritsu Ebisu Chugaku, and has composed and produced songs for various artists.
He is also known for being a leading researcher on the music of the 1980s, and in recent years has made several appearances on TV and radio as a specialist in this field. He is also a regular contributor of magazine serializations. Along with providing official liner notes for Michael Jackson, Prince, George Michael and various other artists, he has also written a number of best-selling books.
Prominent among his writings are Atarashī "Michael Jackson" no Kyōkasho (Shincho Bunko), Uwasa no Melody Maker (Fusosha Publishing), Prince Ron (Shinchosha Publishing), and Tsutawaru Notebook Magic (Small Light Inc.).

The Association for Corporate Support of the Arts was established in 1990 with the aim of actively encouraging corporate support for the arts. It is the only such organization in Japan.