FUJIFILM SQUARE Photo Exhibition   Japan as Seen from the Ocean   (2) "is Blue"—Yasuaki Kagii × Fumino Kimura
Feel the diverse ocean and think about symbiosis with nature!
FUJIFILM SQUARE Photo Exhibition
Japan as Seen from the Ocean
(2) "is Blue"—Yasuaki Kagii × Fumino Kimura
Kagoshima
© YASUAKI KAGII

Ocellaris clownfish
© FUMINO KIMURA

Aka Island, Okinawa
© YASUAKI KAGII
Please note that this exhibition closed on Thursday, 1 April , 2021
FUJIFILM SQUARE is pleased to present two simultaneous exhibitions on the theme of Japan as Seen from the Ocean from March 12 (Fri) to April 1 (Thu), 2021. The exhibitions attempt to re-explore the ocean surrounding the Japanese archipelago through photographs.
One of them is "Lives cultivated by ocean currents," a photo exhibition by five underwater photographers. Focusing on the Kuroshio Current and the Oyashio Current, which have a huge impact on the origin of Japanese nature and human life in Japan, the exhibition provides a look at the marine environment and living creatures through photographs. The other photo exhibition is titled "is Blue" by Yasuaki Kagii, an underwater photographer, and Fumino Kimura, an actress who loves diving. The two offer impressions from their experiences from touring the oceans surrounding Japan.
About the photo exhibitions and photographers
(2) "is Blue"—Yasuaki Kagii × Fumino Kimura
A joint exhibition by Yasuaki Kagii, photographer, and Fumino Kimura, actress.
Yasuaki Kagii has gained an esteemed reputation for his dreamy and beautiful underwater photographs captured all around the world. Fumino Kimura is mesmerized by diving and marine creatures and often spends her private life outdoors. The photographer and actress are both active in their main careers went on a diving tour together in Japanese oceans as divers and collaborate in photographs shot with their own preferences.
Kimura captured the lovely creatures she met on film from as far south as Kerama Island in Okinawa Prefecture and as far north as off Koza in Wakayama Prefecture,and Noto Peninsula in Ishikawa Prefecture whiletouring the best diving spots in Japan. Meanwhile Kagii presents Kimura's precious underwater reports that he captured in the attractive marine scenery unique to each place, to make true Kimura's wish to be a fish. Through their works, you can enjoy a sense of familiarity with marine creatures and an extraordinary sense of what it's like to float in the water.
Also, there is a photo report about marine waste which is a growing issue in Uwakai, Ehime Prefecture. We would like you to appreciate the clear and present danger as well as the beauty of the ocean surrounding our life.
Name of exhibition
FUJIFILM SQUARE Photo Exhibition —Japan as Seen from the Ocean


(2) "is Blue"—Yasuaki Kagii × Fumino Kimura

Dates and times
12 March — 1 April, 2021
10:00 — 19:00
(closes at 14:00 on final day of exhibition; last entry: ten minutes before closing)
open everyday throughout the exhibition
Venue
Fujifilm Photo Salon Tokyo Space3, FUJIFILM SQUARE
Admission
Free
* This exhibition is being held as a corporate MECENAT activity. We are pleased to announce that admission is free to enable more people to attend.

Number of exhibits
508 mm x 610 mm, 457 mm x 560 mm, approx. 30 exhibits
Organized by
FUJIFILM Corporation
Supervised by
Takahiro Kudo (Ichthyological Society of Japan)
Planned by
Sachiko Takahashi (Shishmaref)
Art direction
Yuji Tomizawa
Traveling Exhibition
Fujifilm Photo Salon Osaka
23 July — 11 August, 2021   10:00—19:00
Concurrent Exhibition
* Please note that the exhibition and related events may be subject to change or cancelation due to unavoidable circumstances. Thank you for your kind understanding.
Introduction of exhibitors
Fumino Kimura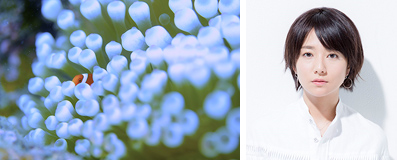 Ocellaris clownfish   © FUMINO KIMURA
Fumino Kimura is an actress born in Tokyo in 1987. She played the role of Teruko, the main character's wife, in NHK Taiga-dorama Kirin ga Kuru in 2020. She was also one of the main cast of TV Asahi's Shichininn-no-Hisho. Diving is one of her personal interests. Underwater photographs she takes herself using a FUJIFILM X-T3 are posted in her official Instagram account (@uminokimura_official).
Yasuaki Kagii
Aka Island, Okinawa   © YASUAKI KAGII
Yasuaki Kagii was born in Hyogo Prefecture in 1971 and now lives in Kamakura city in Kanagawa Prefecture. He worked in Australia, Izu, and the Maldives, devoting himself to underwater photography. He returned to Japan in 1998 and became a freelance photographer. Staying close to natural rhythms, he avoids placing stress on living creatures. Since 3.11, he regularly records the ocean of Iwate Prefecture and Miyagi Prefecture. His books include LETHOTREMUS AWAE, unknown, Fushigi-no-kuni-no-umi, SUNDAY MORNING, and many others. He won the 15th Anima Award (1998), Newcomer's Award of the Photographic Society of Japan (2003), and the Excellence of Nikkei National Geographic Photo Prize (2013, 2015). He has appeared on the television programs JOUNETSU - TAIRIKU, Crazy Journey, Knight Scoop, Kanjani Eight Chronicle F, etc.
* Sustainable Development Goals (SDGs): Goals in sustainable development adopted by the United Nations General Assembly in 2015, to be taken up as social issues by the international community until 2030. Seventeen goals and 169 targets have been established to address the issues of poverty, inequality and injustice, health, education, fulfillment in work, climate change and the environment, etc. Life Below Water is goal 14.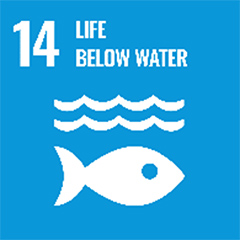 <Long-term Goal of FUJIFILM Group>
International long-term targets such as Sustainable Development Goals (SDGs) and the Paris Agreement*1 have been announced recently in the drive to resolve social issues. Expectations concerning the role of companies as players in resolving social issues and building a sustainable society are especially increasing. In view of these developments, the SVP 2030 has set as its long-term goal for 2030 to contribute to achieving the goals for resolving global social issues set by SDGs, the Paris Agreement, etc.
Ten out of the 17 goals were recognized as goals that enable Fujifilm to make major contributions to achieving its SDGs. Concrete measures to achieve these goals were also defined.
*1 Paris Agreement: International, multilateral agreement on arresting climatic changes that was adopted by the 21st Session of the United Nations Framework Convention on Climate Change Conference of the Parties (COP21) held in Paris in 2015. The Agreement calls for holding the global temperature rise to less than 2℃ over the level before the Industrial Revolution.


Fujifilm Photo Salon received the THIS IS MECENAT 2020 certificate by the Association for Corporate Support of the Arts as an act of creating society through art and cultural promotion.