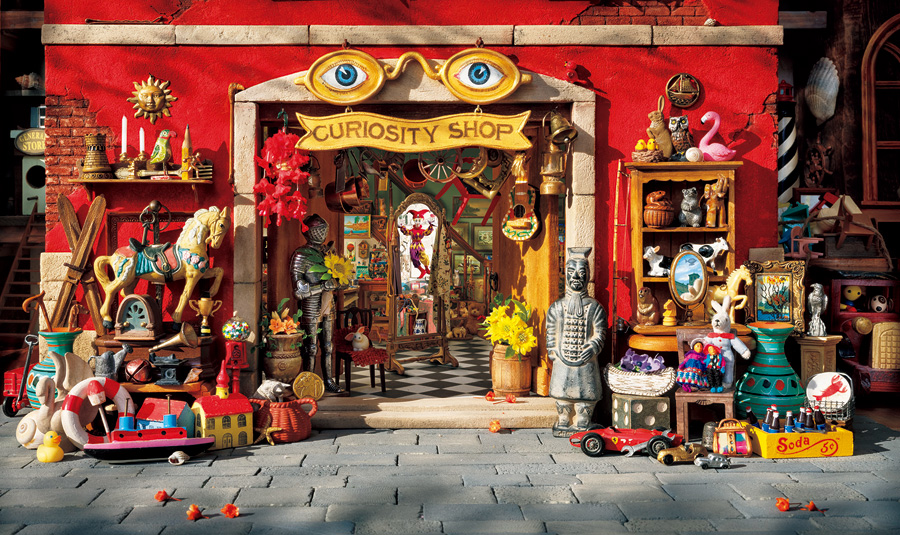 30th Anniversary of Publication in Japan
Step into "Can You See What I See?"
~The World of Walter Wick's Picture Puzzles~
FUJIFILM SQUARE Photo Exhibition
September 23 – October 13, 2022 (The exhibition closes at 14:00 on the final day)
FUJIFILM PHOTO SALON Space1 / 2
Highlights
Immerse yourself in the world of picture puzzles from Walter Wick's popular "Can You See What I See?" series through wall-size silver halide prints of over 3m in width.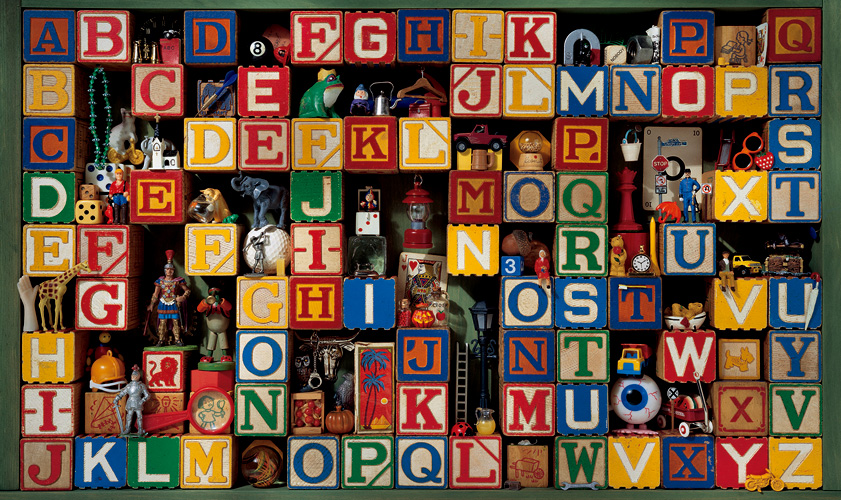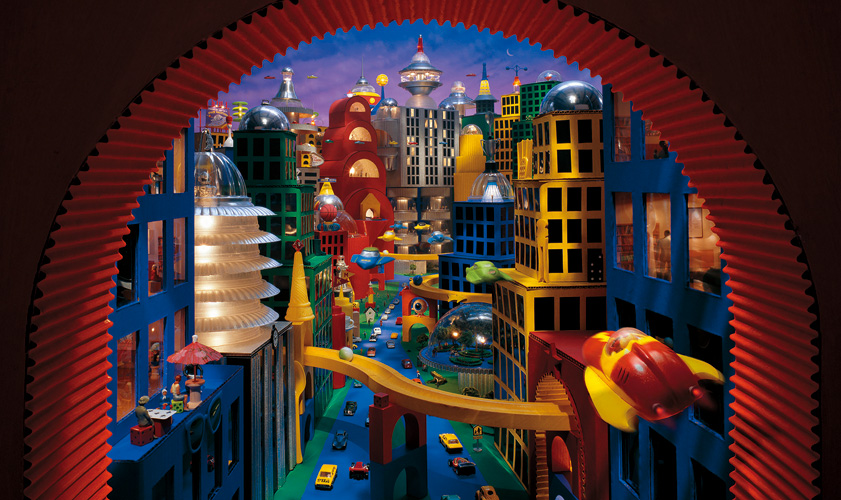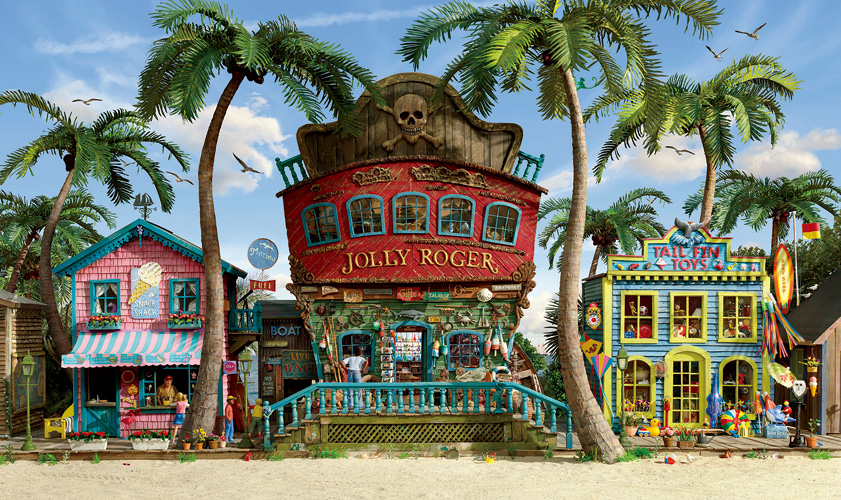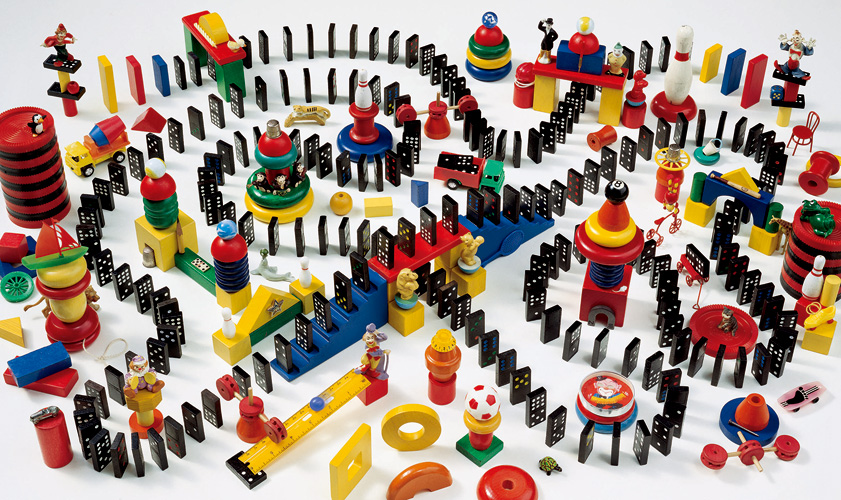 About the exhibition
Walter Wick's "I Spy" was first published in the USA in 1991. Its translated version entitled "Mikke!" was released the following year in Japan. Now, 30 years post, the popular series it spawned has sold a grand total of over 9.43 million copies in Japan alone — a good indication of just how much fun kids and adults alike discover in these picture puzzles where the reader hunts for toys, models, antiques, stuffed animals and all sorts of other neat things hidden amongst intricately arranged dioramas.
This exhibition puts on display giant silver halide prints of 12 selected works from the first to eleventh books in Wick's "Can You See What I See?" series. Over 3m in width, these huge productions not only amplify the intrinsic fun of combing through the photos in search of the listed items, but also fuel the powerful photographic expression, inviting you to dive into and experience the Walter Wick's world like a kid on holiday.
A different world unfolds when pages from the "Can You See What I See?" picture puzzles are this big. Who knows, you might find something that got away when you were a kid. In any case, whether you indulged in the intrigue when you were young or are seeing "Can You See What I See?" for the first time, the challenge awaits!
Profiles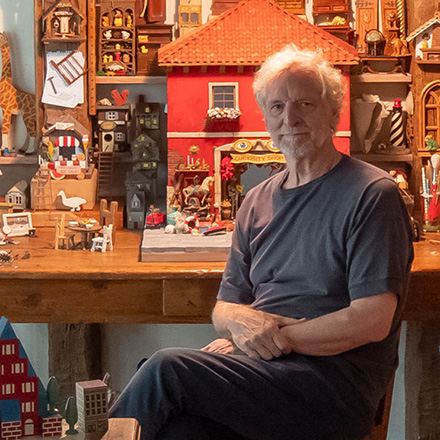 Walter Wick / Author
Born in Connecticut, USA in 1953. Learned photography at the Paier College of Art, Has produced magazine and book covers for over 300 publications including "Newsweek" and "Discover". His picture puzzles produced for "Games Magazine" in 1985 caught the eye of the editors at Scholastic, leading to the publication of his "I SPY" in 1991. The subsequent series was a big hit. His "A Drop of Water: A Book of Science and Wonder" received the Horn Book Award for Notification from the Boston Globe, while his "Optical Tricks", was selected a Notable Children's Book by the American Library Association. Also authored "A Ray of Light: A Book of Science and Wonder".
Shigesato Itoi / Translation
Founder of Hobonichi website. Made his fame as a copywriter, while is active today in many fields including as a writer, essayist and game creator. Since launching the website Hobo Nikkan Itoi Shimbun in 1998, has planned and developed various products like Hobonichi Techo, Hobonichi Globe and Hobonichi School.
Exhibition overview
Title
Step into "Can You See What I See?"
The World of Walter Wick's Picture Puzzles
30th Anniversary of Publication in Japan
FUJIFILM SQUARE Photo Exhibition
Dates
September 23 (Fri./Holiday) – October 13(Thu.), 2022
Time
10:00 - 19:00
(Until 14:00 on the final day. Entry allowed up to 10 minutes before closing.)
Open every day for the full duration of the exhibition.
Venue
Fujifilm Photo Salon Tokyo Space1 & 2, FUJIFILM SQUARE
Admission
Free

*This exhibition is being held as a corporate MECENAT activity. We are pleased to announce that admission is free to enable more people to attend.

Number of works
12 works, W3,300mm×H1,957mm, color (Planned)
・Digital works
Organized by
FUJIFILM Corp.
In cooperation with
Shogakukan Inc.
* Exhibitions and events may be subject to cancellation or change by force of circumstances. Please check our website or via phone before visiting.
Fujifilm Photo Salon received the THIS IS MECENAT 2022 certificate by the Association for Corporate Support of the Arts as an act of creating society through art and cultural promotion.